Photographing 'Close to Home'
There are the same amount of great photographs right outside your door as there are across the world.
And in this case maybe more.
You have a chance to deeply focus on what's around you. To capture areas you know well and go to back over and over again, finding new things and giving time for the perfect moment to occur.
Repetition is always the key.
Emily Passino
Linda Press
Regina Melo
Taisuke Sato
You could have five Magnum photographers swoop into your area for a month and they wouldn't have the advantage of what you can create there in a year or two of shooting. You can't just pull that intimacy out of thin air.
You need time. You have to be there and you have to live it. That's the advantage we have right now.
There's nobody more suited to creating an interesting body of work there than you.
I know this pandemic has us all thinking more internally – questioning things, feeling things.
Embrace those feelings.
If you're angry, make your photos feel angry. If you're happy, make them happy. If you've got some anxiety like me, tip your camera at an angle and add some weird energy to it or make some jumbled, chaotic photographs.
This may sound weird or hard to do, but it will come out naturally over time.
So what do we photograph?
One idea is to start by telling a story of your area, or someplace close by. For some in busy cities and places, you could do an entire project in a couple block radius.
For others, you might have to walk much further or take long drives exploring.
I love this paraphrased quote from Linda Press, who was struggling with the idea of how she could do this work in her tiny, quiet area. She recently posted this with some wonderful photos.
"After carping about the paucity of photo ops in my small town, I put on my boots and walked parts of Brewster in the twilight. James advised that I should make a list of subjects, so I took mental notes. My adventure resulted in some photos for which I would LOVE feedback. In addition, I experienced a remarkable breakthrough as I asked several pedestrians if I could take their photos. Whew! Three said yes; one resulted in a fairly nice shot."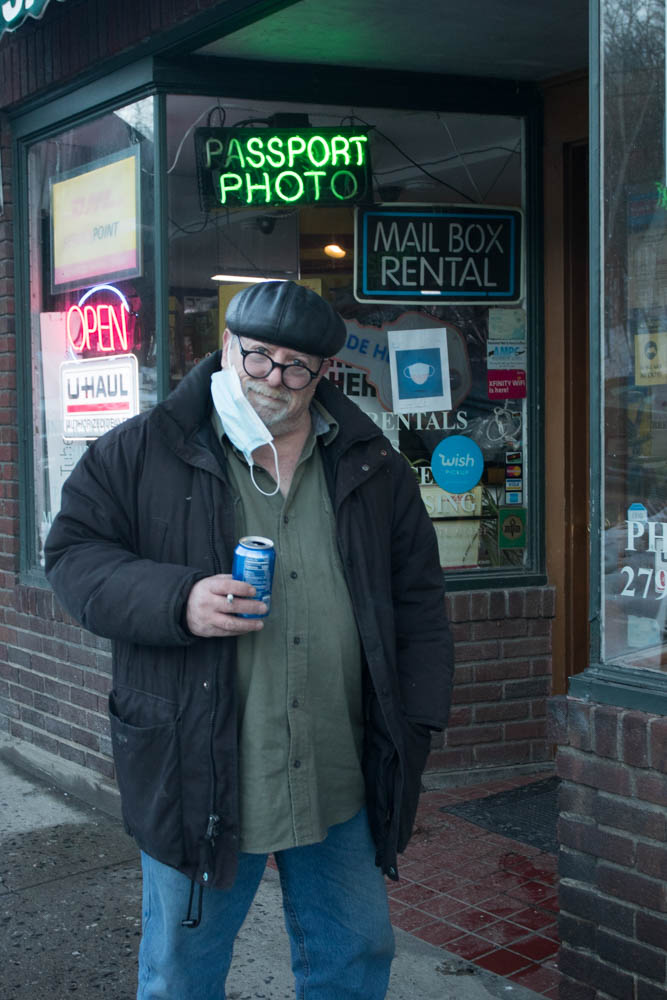 Linda Press
Make a list of what you want to photograph. I can give you a head start here:
Homes, any old or quirky man-made structures or things, quiet street corners, Main Street, supermarket or shopping mall parking lots (yes, you can create great photos anywhere), any outdoor place where people congregate (and indoor after the pandemic), barns, tractors, and fields, animals, photos in your home, moody nature shots, night photographs.
The word 'street' is such a clunky term. Any photo can have a 'street' feel if it helps to tell the story or if it shares some emotion. A tree branch can be a 'street' photo in the right context.
Capture beautiful photographs, capture ugly photographs, capture the most ordinary, mundane, and everyday photographs that you can find. Photograph vistas and take detail shots. Bring all of these together.
And for people, try candid shots of course when you can, but portraits are something that should be strongly considered, particularly in the pandemic and if you live in quiet areas (but also if you live anywhere).
Try closeup shots where your subjects fill the frame and environmental shots that display both the person and the background.
I've found that even more people say yes these days than before the pandemic, even though you have to keep more distance. They're looking for connection as well right now and what a better way to do it.
It's a great way to brighten someone's day. Take photographs of strangers, but also take photographs of people you know, neighbors, family members.
All you have to do is tell them that you're creating a photography project or taking pictures of the area and you thought they would be great to help tell that story.
Even better, ask them a question or two about themselves. It's incredible how a simple question can open someone up to take a meaningful portrait.
Now beyond just your area, there are other directions you can take. You can do more abstract projects based on feelings and ideas. You can create all dreamlike photos. You can do more of a documentary project. You can capture only specific aspects of your area, such as only homes at night like Todd Hido. There are many other ways you can focus.
But I think starting an area project is a great path forward for a lot of you, and it can ultimately lead in a wide variety of directions. You may find the project sticks in this way from beginning to end as a broad yet nuanced work, or you may find that it leads you to focus on a much different path over time.
Just don't try to force things too much.
Take it slow, shoot frequently within your daily life, even in short spurts, and let the photographs lead you.
But most importantly, get out there, take a drive or walk, and have some fun!